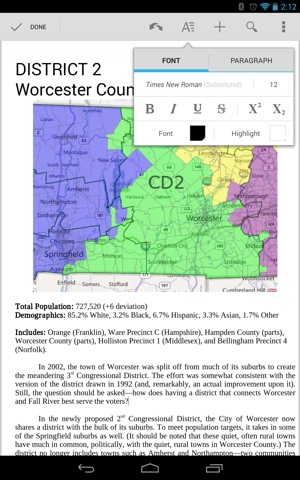 A couple months ago, Microsoft unveiled its Office Mobile app, a way to make edits to Word, Excel and Powerpoint documents directly from your smartphone. Unfortunately, Microsoft got every aspect of the app wrong. It was difficult to use, you couldn't create new files, there was no iPad version and you need a subscription to the $6-per-month Office 365 service to use it.
Microsoft's app is still a mess, but the good news is that there's a better, free alternative to it. Meet Google's Quickoffice, an app that allows you to create and make edits to Microsoft Office documents from your smartphone or tablet.
Quickoffice interfaces directly with Google Drive cloud storage, though you can open and edit documents downloaded directly to your tablet or sitting in your email inbox. Google will give you 15GB of free cloud storage with Quickoffice, but be careful – that allowance shrinks to just 5GB after 2 years.
Quickoffice is a pared down version of Microsoft Office, so you'll only be able to make basic edits, change fonts, highlight, resize and add photos, adjust paragraph spacing and alignment, create lists and run a spellcheck. But surely that's more than most of us need in a free mobile document editor. Quickoffice is easy to use, free, you can create files, there's an iPad version and you don't need an Office 365 subscription to use it. Essentially, it's everything the official mobile Office app should have been, had Microsoft not gotten things so spectacularly wrong.
Google Quickoffice is a free download for iOS via the Apple App Store and for Android via Google Play. To learn more about the software, check out the official FAQ.