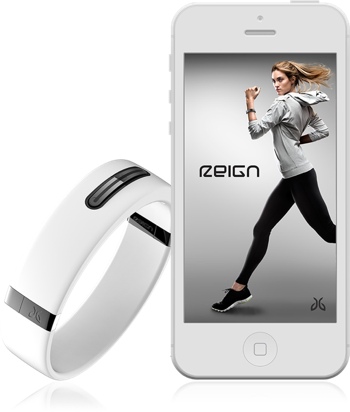 By now, there's no shortage of exercise monitors on the market, each with its own gimmick. Some offer style, some offer waterproof construction, some turn fitness into a game and some will even help you track your food consumption. But none will actually tell you when it's optimal for your body to start exercising … at least until the new Reign by Jaybird monitor is released later this month, that is.
Each day, Reign conducts a Heart Rate Variability test, an analysis of time interval between heartbeats. The more relaxed and rested you are, the more variability there is between beats. Reign uses this data to calculate your "Go-Score," a number ranging from 0 to 100 that shows your body's readiness for exercise. The higher the score, the more primed your body is for activity. It's meant to push you toward being active when your body is ready to make the most out of your effort.
What you wind up doing when your Go-Score maximizes is up to you. The Reign can track walking, running, cycling and sports. It's also waterproof, so it can keep tabs of your swimming too. Steps, calories burned, duration, activity, sleep quality and your numerical Activity Score can all be monitored on your iOS or Android smartphone via a low-energy Bluetooth connection. A full charge of the Reign's battery takes 2 hours and offers 5 days worth of tracking.
Another nice feature: The attractive looking Reign band is designed to perfectly fit your wrist no matter its size. Each monitor comes with a soft-touch silicone and brushed metal band and an interchangeable lower band in your choice of sizes. Two seamless sports bands are also included, as is an ankle strap for biking.
The new Reign by Jaybird fitness tracker will be available in black, white and green when it's released on October 26. It carries a manufacturer's suggested retail price of $199. Pre-orders are not being offered, though you can enter your email at jaybirdsport.com to receive updates.