The basic idea: You, as Harry Potter, must endure the trials presented in "Harry Potter and the Half-Blood Prince," the sixth book in the Potter series by J.K. Rowling. Challenges include mastering the art of creating potions; becoming a top-notch dueler; winning at Quidditch, Rowling's inventive blend of rugby, football and flying broomsticks; and finding as many hidden crests as possible.
Who it's for: This game is rated E to E 10+ (See "The Virtual Parent Inside Your Video Game Console"), for fantasy violence and mild language ('bloody hell' is a favorite term). In theory, anyone who is old enough to enjoy the book and/or movie this game is crafted after should be mature enough for the language and situations in the game.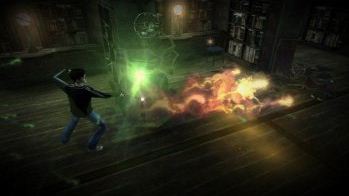 The Review: The actual game play is remarkably fun. The potion-making assignments involve using the Wii remote as if you were actually picking up vials and chalices, shaking up mysterious fluids, stirring the brew and stoking flames—all of which feels a bit ridiculous but in a giddy, highly entertaining way.
Using a variety of progressively learned spells, players also engage in duels to obtain shields or unlock new challenges.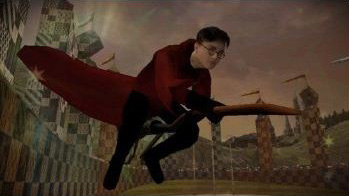 Quidditch takes surprisingly little skill. You don't have to fight off or dodge other players as you fly through hovering stars in the sky, or even find the golden snitch (the flying gold ball) to capture it (the move that ends the game).
The physical layout of Hogwarts School of Witchcraft and Wizardry, where the story takes place, is simply phenomenal, as is the experience of exploring it. One can wander the halls (guided by the character Nearly Headless Nick from the books, if desired), visit exterior cottages and the Quidditch field, traverse the moving staircases and discover a plethora of interesting sites.
All this is fantastic, truly, except that the game lacks any real depth, making it feel more like "Harry Potter and the Half-Finished Game." In fact, the real play time for this game is probably less than eight hours total, and as mentioned earlier, only involves three main types of play—Quidditch, dueling and potions.
The ending comes up disappointingly quickly and rather abruptly. Once the credits have rolled, you're free to wander the grounds and pick up more shields, or play the "extras," such as dueling contests using a local two-player mode, but it doesn't seem like enough. The game really leaves you wishing for more directed play, especially given the high quality of the gaming experience however brief.
The Bottom Line: A must for players who are journeying through the Harry Potter oeuvre via video game. Not so hot for players who expect an adventure game with depth and longevity.