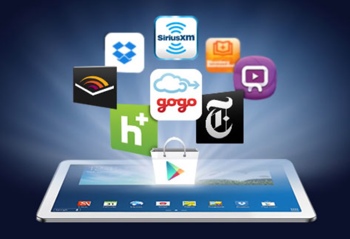 This week, electronics giant Samsung introduced a new promotion called Galaxy Gifts, bundling hundreds of dollars worth of free apps and subscriptions with the purchase of the coming Samsung Galaxy S5 smartphone.
Of course, free software and "exciting promotional offers" have been part of buying electronics for years. There's nothing exciting about bloatware. But what makes Samsung Galaxy Gifts different is that the freebies aren't 7-day trial teasers, they're longer-term subscriptions to popular services like RunKeeper.
Those who purchase a Samsung Galaxy S5 will be entitled to $500 in gift subscriptions and apps. Gifts include free cloud storage, a suite of fitness app subscriptions to take advantage of the phone's new health-monitoring capabilities, 3 months of Evernote Premium, and free electronic access to Wall Street Journal and Bloomberg Businessweek+.
You can browse the full slate of gifts at the Samsung website.
But it's not just smartphone buyers being showered with gifts. Purchase a new Galaxy Note or Galaxy Tab, and you'll be able to register for Samsung Galaxy Perks. Those who buy the oversized Samsung Galaxy Tab Pro 12.2 (coming March 9), for example, will score $800 of gifts. Again, this is stuff you'll want, including a $25 Google Play credit, a year of free Gogo in-flight WiFi and 2 years of RemotePC (for new users).
The Samsung Galaxy Perks program is slated to last through June 30. You can browse the perks and learn how to redeem them by visiting the Samsung website.