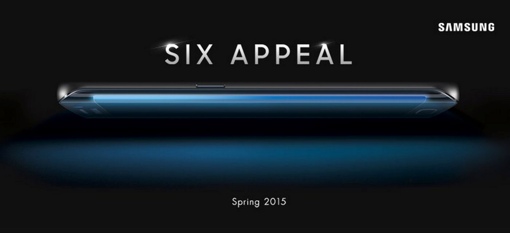 Historically, new Samsung Galaxy smartphones are introduced and released in the spring. And though there may be a couple feet of snow piled outside your window, I assure you – spring is almost here. So the good folks at the Korean electronics giant, in conjunction with carriers T-Mobile and AT&T, have decided the time is right to tease us with a couple early photos of the coming Samsung Galaxy S6.
The Samsung Galaxy S6's exterior holds some interesting clues about the phone's new-for-2015 features. The phone's screen now curves around both sides (similar to the Galaxy Note Edge). Last year's weird fake leather backing is gone, too, replaced with solid gray metal. It's a vastly different look than the Samsung Galaxy S5, but that could be just the thing to turn around last year's struggling sales numbers.
There's nothing in the T-Mobile teaser about the phone's internals, but there are plenty of rumors about that swirling online. Many expect the phone's 5.1" screen to have 2560 x 1440 quad HD resolution, while ZDNet suggests the main camera on the device is getting a nice bump to a whopping 20 megapixels (from the current 16 MP). Rumors are also calling for the 64-bit phone to carry a Snapdragon 810 processor chip and up to 128 GB of internal storage; all powering the most recent Android 5.0 Lollipop build.
The base model price of the Samsung Galaxy and Apple iPhone always seem to come in at $199 with a two-year contract ($649 off contract). Nothing official has been announced here, either, but we expect Samsung will leave that price right where it is. And again, if past years are any guide, the phone should be available for sale sometime in April. We'll know more about these specifics when Samsung officially unveils the Galaxy S6 on March 1.
[Image credit: Samsung]