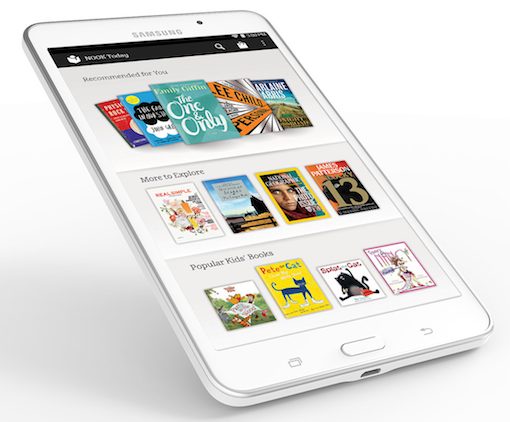 If you're a heavy e-reader and a smartphone screen is too small for you, Samsung and Barnes & Noble have a solution: the ungainly-named 7-inch Samsung Galaxy Tab 4 Nook.
On sale now in stores and via both the Barnes & Noble and Nook.com, the $179 (after a $20 instant rebate) SGT4N is the first full Android e-reader tablet, which means that unlike the Amazon Fire HD tablets it runs all available Android apps through the familiar Google Play store. SGT4N is essentially a standard Samsung tablet, complete with Samsung's Multi Window capabilities, with a semi-Nook interface.
But SGT4N is made for multiusers. You can create up to six individual profiles for family members, including special ones for kids.
Available in either black or white, the SGT4N comes pre-packed with $200-worth of content: three ebooks – Freakonomics, The Wanderer and I Am Number Four, three episodes from TV shows Veep, Hannibal and Orphan Black, and up to four 14-day free trial magazine subscriptions, which includes 12 previous issues of each, as well as a $5 credit toward a future Nook store purchase.
The SGT4N's 7-inch screen has a resolution of 1280 x 800 and 216 points per inch and runs Android KitKat 4.4. It is the first e-reader/tablet with both front-facing and rear cameras (1.3 and 5 MP, respectively) and includes 8 GB internal memory. The battery is rated to last 10 hours for video with the wireless off – there was no battery rating just for reading. Physically, it's just .35 inches thin and weighs in at 9.74 ounces.
We'll have a more in-depth review of the SGT4N next week.