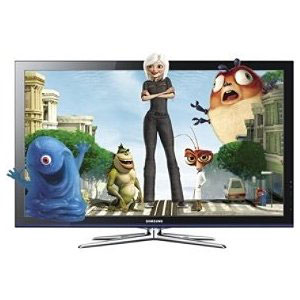 Think you can't afford a 3DTV for the holidays? With Samsung introducing the first 3DTV to sell for under $1,000–less than half the price of the first TVs introduced less than six months ago–you may be able to think again.
Samsung's PN50C490 plasma 3DTV is a departure in price and specs. With a retail price of $1,100 (you can pre-order it today on Amazon for $989
), the PN50C490 cuts the flat-panel entry point in half, making 3DTV much more accessible. And, better yet, it's a plasma, which generally offers better overall picture quality than LCD sets in the same price range.
When Panasonic and Samsung launched the first flat-panel 3DTVs in March, the products were showcases for the best technology the companies could offer—including the ability to play 3D content. The price points matched—with Samsung's 46-inch UN46C7000 LED-backed LCD TV retailing for $2,600 (or as of today $2,200
on Amazon) and Panasonic's 50-inch TC-P50VT20 plasma for $2,500.
So what's the catch? The Samsung PN50C490 is a 720p set, not the higher-resolution Full HD (1080p). However that should be fine for most people since the ideal viewing distance is 9 to 10 feet, according to HDGuru.com (see the HDGuru.com viewing distance chart), and beyond that you likely won't notice a difference. And, we don't have all the details yet, but we suspect that it won't have other useful add-ons, such as Skype or Internet widgets.
The bottom line is that if you're looking for a 3DTV on a budget, the new Samsung PN50C490 is a great value. It's a plasma, which we've found delivers the best 3D experience, and it has the same underlying tech as Samsung's 1080p plasma, the PN50C7000, which goes for $1,700
on Amazon.