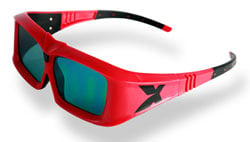 XpandD announced today that they will be releasing a pair of universal 3D glasses in June—the XpanD X103—that will work with most major manufacturers' 3DTV sets.
This is big news because one of the major complaints we've had is that 3DTV manufacturers are all using proprietary technology for their glasses. So if you want to bring your Panasonic glasses to a friend's house to watch a movie in 3D and they have a Samsung set, you're out of luck. And if you had two 3DTVs in your house from different brands—you'd have to invest in two complete sets of 3D glasses at $150 each. That would be nuts!
In addition to working with 3DTVs from LG, Panasonic, Samsung, Sony and others, the new XpanD X103 will also be compatible with Nvidia's 3D Vision system for PCs, so you can get your 3D gaming on.
The XpanD X103 will be available in adult and child sizes, and in 12 different colors. That's 11 more colors than the TV manufacturers are currently offering! According to HotHardware.com, the glasses will run on replaceable batteries that are projected to provide 250 hours of active 3D usage.
The pricing is also more reasonable than the TV manufacturers, with an estimated retail price of $125-150 per pair. Still too high, in my opinion, but I'm confident that will drop quickly as more products come to market.