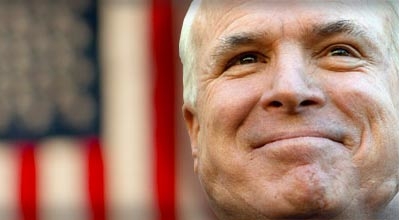 There are a few cable channels I simply wouldn't want to do without. I love Comedy Central, Bravo, and – don't judge – the Game Show Network. Like most Americans, I watch maybe a tenth of the channels available to me by my cable provider, if even that. I don't have a choice, since channels come bundled.
That's the way things have always been, and certainly not everyone's happy about that. Senator John McCain (R-AZ) recently introduced a bill in the Senate called the Television Consumer Act of 2013, designed to empower consumers to pick and choose only the channels they want without having to pay for the rest.
McCain's bill is designed to stop a few common practices in the cable industry. First, cable companies would no longer have to agree to carry smaller channels as a condition of carrying larger, more popular channels. It would also allow cable providers to broadcast MLB and NFL games that have been blacked out in certain geographical areas.
"In the end, the Television Consumer Freedom Act is about giving the consumer more choices when watching television," explained Sen. McCain. "It's time for us to help shift the landscape to benefit television consumers."
McCain's bill could ultimately cut your selection of hundreds of channels down into a virtual ghost town. Should it pass, it is likely only profitable channels will continue to exist – many smaller, niche networks simply won't be able to make it without support from a larger broadcasting company. Channels like MTV, unprofitable when it launched, might not exist today without bundling. And since the bulk of your cable bill comes from the larger networks you regularly watch anyway, buying channels a la carte may not provide the cost savings Senator McCain seems to be promising.
Of course, in 2013, you're just as likely to see new channels of programming pop up on YouTube, Hulu, or Netflix than on your cable TV box. Google, after spending hundreds of millions of dollars to develop its own YouTube channels, revealed that Millennials watch more YouTube than any single TV channel. Even Amazon.com has gotten into the programming game, releasing 14 new web pilots they hope to turn into major series. Any obstacle to the cable TV industry could prove a massive boon to the competing Internet TV industry.
There is no word yet on whether the Democrat-led U.S. Senate will take up McCain's proposal for consideration this session. McCain introduced a similar bill in 2006 without success.