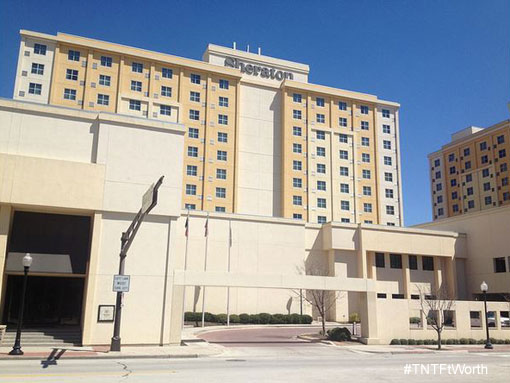 High tech is coming to one of the world's largest hotel chains, Starwood Hotels and Resorts, as it begins to add keyless entry to its hotels. Though only available in 10 select hotels at present — spanning the globe with locations in Beijing, Cancun, Cupertino, New York City, Qatar, Los Angeles, Hong Kong, and Singapore — the program is expanding, with keyless entry arriving at many locations soon, including the newly remodeled Sheraton Fort Worth Hotel and Spa we recently visited.
Keyless entry lets you open your hotel room door with your smartphone rather than needing to fumble with a key or keycard. To unlock your room in the hotels that support it, you'll just need the SPG app on your smartphone (available for free on iTunes and Google Play). Once you've registered your mobile device, you'll get a notification on your smartphone if an upcoming stay is eligible for keyless entry. When you arrive at the hotel, you'll be able to unlock the door via Bluetooth, using the SPG app — no keycard required.
Another perk for the tech-savvy Sheraton Fort Worth guests is Starwood's partnership with Uber. If you're a member of Starwood's rewards program, you'll now be able to earn points from Uber rides, letting you earn extra points to spend on future travel whenever you ride on Uber. To start collecting points, you'll just have to link your SPG account to your Uber Account.
So check out the Uber deal and the Sheraton Fort Worth's newly upgraded beds, furnishings, carpet, and lighting today and stay tuned for keyless entry later this year.
[image: #TNTFtWorth]