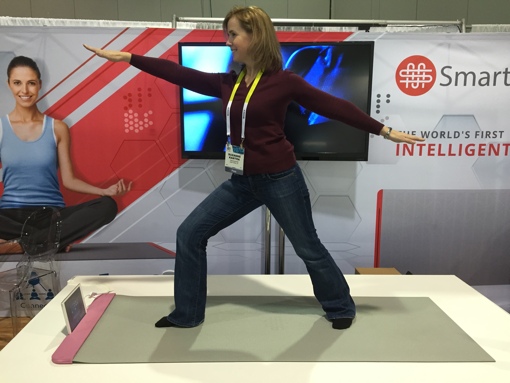 There's no shortage of companies showcasing fitness and exercise technology at this week's CES 2015 consumer electronics show. But much of the so-called "new" tech is just rehash of stuff we've seen before. No sot with the new SmartMat – it's the first intelligent yoga mat with a companion app to coach you through individual exercises and correct your positioning.
SmartMat contains a number of sensors that measure pressure. You calibrate the mat by giving it information about your age, gender, height and weight; then you lay down on the mat to measure the length of your arms and legs. Once the mat is set to your unique stats, it will be able to understand exactly where your hands and feet are placed, if you've achieved balance and whether the positioning of the rest of your body that's not touching the mat is correct for each individual exercise.
The SmartMat itself is the same size as a traditional yoga mat, and can be rolled up just the same without damaging any of its built-in hardware. It's also designed to be heat-resistant up to 110 degrees Fahrenheit, so you can bring it with you to those sweaty, trendy hot yoga classes too. (Just don't leave it in your car on a hot summer day.) Each full charge of the mat provides approximately 6 hours of use.
The companion SmartMat Marketplace app (for iOS and Android) will contain a number of beginner and expert level yoga routines for you to enjoy at launch. As time progresses, the company will be adding routines created by recognized yoga masters for you to add-on and try. Each of these routines will contain recorded video, audio and corrections so they'll be as easy to follow as possible.
When it comes to my own fitness, I prefer to go it on my own. I love working out and going to the gym (no, really), and I love improving my flexibility through stretching and yoga-type exercises. I just don't like doing it in front of a group of strangers as part of a larger by-appointment fitness class. The Smart Mat is a great way to give yoga exercises a try on your own schedule without fear of looking silly because you're doing it wrong. I'm really excited to see how fine-tuned the tech gets by the time it finally ships to customers.
The Smart Mat's IndieGogo campaign has concluded, but you can still pre-order the new fitness device for $297 directly from the SmartMat website. The device is expected to ship in July 2015 with a MSRP of $447. To learn more, visit smartmat.com or watch the short promo video below.
[Image credit: Suzanne Kantra for Techlicious]