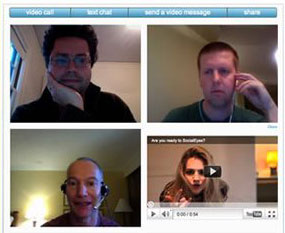 There is no shortage of free video calling apps out there. Google Talk, Skype and FaceTime have all carved out niches for themselves. But none has managed to become ubiquitous (Skype comes the closest) because, ultimately, you have to convince your friends and family to sign up for a new service if you want to actually hold a conversation with somebody. That's what sets SocialEyes apart from the rest of the video-conferencing crowd.
SocialEyes allows you to video chat with your Facebook friends where, presumably, many of your friends and family are already members. You can chat one-on-one or conference with up to six people at once. And if you're having conversations with two people who are not already friends, you can "introduce" them. Or you can connect with strangers based on your interests -- like Chatroulette, but with less unwelcome nudity (unless that's your interest, I guess).
It's not all good news, though. For one, SocialEyes exists outside of Facebook. So while you sign up using your Facebook account and your friends are automatically imported, you can't place a video call directly from Facebook—you still need to visit the SocialEyes site directly.
Then there are the permissions. It wants not only access to your basic info and friends list, but also the freedom to post on your wall and update your status. Though this isn't the first app to request permissions that aren't necessary for it to function, and we don't think SocialEyes has malicious intent, when it comes to our privacy we prefer to err on the side of caution.
SocialEyes certainly faces an uphill battle—when you're competing against Skype, Google and Apple, it's never going to be easy. But the fact that SocialEyes offers group video calling for free, while Skype is $8.99 a month, makes it very compelling.