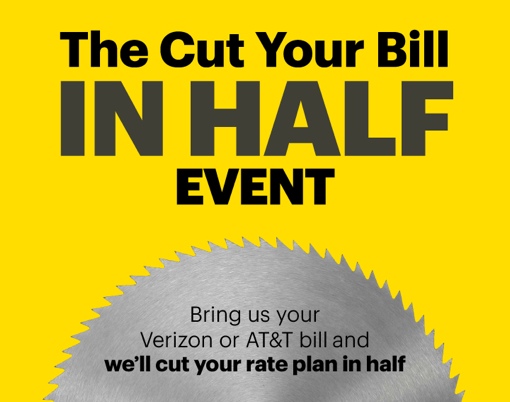 Want to cut your mobile phone bill in half? It could happen – if you're willing to switch carriers to Sprint. Starting on Friday, December 5, the company will launch a Cut Your Bill in Half Event. If you're a current Verizon or AT&T customer, you can bring your current phone bill in to any Sprint store (or upload it to the Sprint website) and a rep will sign you up for a near identical data plan on its network for half the price you're paying now.
The new Sprint plans all offer upgrades to unlimited text and unlimited talk, regardless of whether your current plan does. Sprint will also waive its $36 per line activation fee for the event. And if you're still trapped in a contract, Sprint will give you a Visa Prepaid Card worth up to $350 per line to cover the costs of your early termination fees.
Naturally, there are a few catches here if you're trying to get the best deal. Because the Sprint network isn't compatible with its competitors, you'll need to surrender your current phone to switch. New Sprint-compatible devices can be purchased through Sprint Lease or Sprint Easy Pay, but that'll add to the monthly bill you're trying to halve. (You can also pay full retail.) There's a fee of $200 per line if you don't turn in an old phone – something to remember if you currently lease through a program like Verizon Edge.
In terms of price, it's hard to argue against this offer – if you're paying $140 per month to Verizon, being able to save $70 is pretty darn good. You'll be surrendering some quality of service to get those savings, though. Both Verizon and AT&T have higher quality networks, wider areas of coverage and faster LTE data speeds than Sprint. You should check and see how strong Sprint's reception is in your area before you commit to a switch by downloading the Glove network comparison app or visiting the OpenSignal website.
For more details on Sprint's Cut Your Bill in Half event, visit sprint.com/halfprice. For an even more cost-conscious cell plan, check out T-Mobile's prepaid Pay as You Go plan, which carries a minimum charge of just $3 per month.