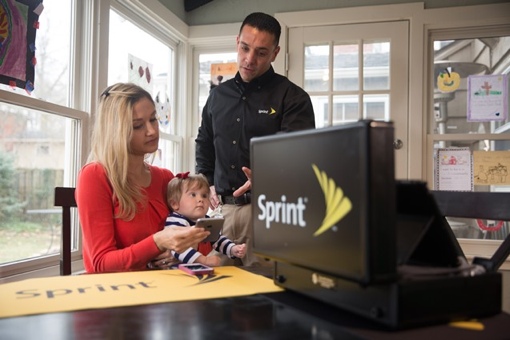 It's never been easier to upgrade your existing Sprint phone. Today, the mobile carrier announced the launch of a free service called Sprint Direct 2 You, which promises to bring the Sprint phone buying and setup experience direct to your home or office on your time.
Here's how Sprint's new program works. When your account becomes eligible for an upgrade, Sprint will send you an email or text with the Sprint Direct 2 You phone number. You then choose your new phone, call the number and make a free appointment. A Sprint agent will arrive in a Sprint-branded car wherever you'd like – at your home, at the office or even at a local coffee shop. They'll set up your new phone for you, transfer contacts and data, make sure you have all your favorite apps and give you a tutorial on how to use it. Once setup is complete, you can hand your old phone over for recycling if you so choose.
The service is specifically aimed at existing Sprint customers who want to switch from an iPhone to Android or vice versa. "We take for granted that it is easy to switch between different types of phones, but it is actually very complex," explains Sprint CEO Marcelo Claure. "By bringing the in-store experience directly to customers, we can make that change painless, worry-free and do it in the comfort of a location where the customer wants it."
The new Sprint Direct 2 You service is launching today in Kansas City, and will then expand to the Chicago and Miami metropolitan areas on April 20. Nationwide expansion will follow through the end of 2015, at which point Sprint estimates it will have 5,000 Direct 2 You agents on the road. The service will expand to new Sprint customers beginning in September. You can learn more about the service by watching the short promotional video below.
[Image credit: Sprint]