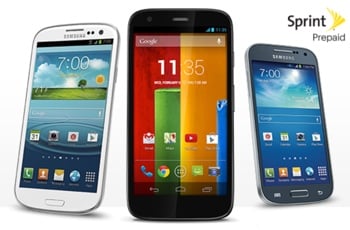 Today, third-place carrier Sprint unveiled a unique new discount offering: Prepaid Smart, a $45 smartphone plan with that includes unlimited talk and text, but no data.
Sprint's new prepaid plan currently works with four decent, if dated, smartphones: the Motorola Moto G, Samsung Galaxy S III, Samsung Galaxy S4 mini and iPhone 4S (refurbished). Under Prepaid Smart, the 3G and 4G data functionality of these devices is blocked, but you can still surf the web on the phone browser or use apps that require internet access by tapping into any Wifi signal available to you.
Personally, I love the idea of a WiFi-only phone. It's a compelling option for those of us who have our devices connected to a home or work network at most times throughout the day. The only problem here is the price: $45 is way too much to spend for a no-data plan. For comparison, you can get a 500MB prepaid plan from MetroPCS for just $40 per month with no overage fees.
If you'd like to learn more about Sprint's Prepaid Smart, visit the company's website. If you'd prefer a better deal on wireless, check out our wireless plan price comparison chart.