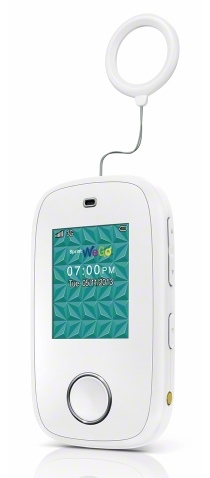 Sprint today announced the launch its new kid-friendly Sprint WeGo phone, a low-cost starter device for ages 5 to 12 that offers plenty of parental controls and tracking features.
"Sprint WeGo is the perfect starter phone to give parents peace of mind while teaching kids responsibility – how to keep track of a device, charge it and care for it – at a low price," says Sprint VP of Product David Owens. "This device has all of the basics without anything younger children don't need just yet."
The simplistic, water-resistant WeGo allows you to program up to 20 trusted phone numbers for your child to contact and be contacted by. It also offers 50 pre-programmed outgoing text message options ("yes," "no," "Call me please," and the like) and a corded panic alarm that sends you an instant SMS notification with you child's location.
Parents, meanwhile, get a large number of tracking and safety features. Built-in GPS lets you immediately find or track your child at any time. You can also get low battery alerts, SMS read receipts, abduction (speed) alerts and wake alerts (if your child isn't up an moving in the morning by a certain time) sent directly to you by SMS message or email.
There are no fancy smartphone features or apps on this child-friendly phone, but that's part of why service for the device is so inexpensive. Sprint WeGo service starts at $9.99 per month, which includes 1,000 minutes of talk and 1,000 text messages. The phone itself can be purchased for $0 down and 24 monthly payments of $5.
For more on the Sprint WeGo, visit the company's website. For more on deciding when to hand a child his or her first phone, check out the results of this recent Microsoft parenting survey and our Is Your Child Ready for a Smartphone quiz.