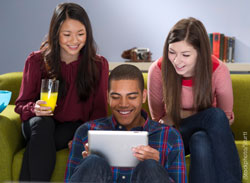 Don't have a 70" LED TV to huddle around this Sunday for Super Bowl XLVI? This year you don't have to—you can watch the New York Giants take on the New England Patriots nearly anywhere now that Super Bowl 2012 is legally streaming live for free.
Facebook
You can stream the game on Facebook for free using the FreeCast app, and comment and chat with your Facebook friends on your profile page. Freecast will begin coverage at 2:00 pm EST Sunday.
Your (Verizon) phone
Verizon has partnered with MobiTV to allow customers to stream the game live on their smartphones (not Verizon tablets, sorry). To do so, you'll need the NFL Mobile app available for the iPhone at the App Store or the Android Market. If you have a newer phone capable of 4G speeds, you'll get to watch the game for free. Otherwise, if your phone only supports 3G you'll need to shell out $3.00 the day of the game—a small price to pay if you're the one sent to the grocery store during the game to restock on chips and salsa.
Your desktop/laptop
For the first time ever, NBC Sports is offering to stream the Super Bowl live on your computer. In addition to the game, you'll get exclusive custom content, including choosing from four camera angles, pausing, rewinding and even connecting socially to your friends on Facebook and Twitter. Simply go to NBCSports.com to the Super Bowl All Access site to stream the game live.
Your iPad
While FreeCast is streaming the game live through Facebook, you can go directly to the FreeCast NBC Sports page and watch the game on your iPad. We tested this out and, while you don't get a full screen experience, it certainly works.
If you've cut the cable cord but still want to watch on your TV...
If you don't have a cable subscription or get the over-the-air signal for NBC but you DO have an iPad and Apple TV, you can use the AirPlay feature on your iPad to stream directly to your TV. (requires Apple iOS version 10.1 or later)
And even if you haven't…
Depending on where you live, many cable service providers have apps that allow you to watch TV live on your tablet device as long as you're connected to your home network and have broadband through your same provider. For instance CableVision's Optimum App, Cox's Mobile Connect, and Time Warner's TWC TV allow you to stream using their apps.