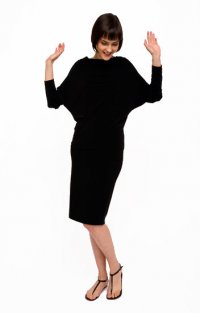 Even if you're not a fashionista, you may have heard designer Norma Kamali's name. And if you haven't heard her name, you've definitely seen her legacy. In the 1980's, this cutting-edge designer brought fleece into the exclusive fold by making active wear chic during the recession. And you know that puffer coat in your closet? Norma Kamali designed the very first one after she went camping and thought how nice it would be to add sleeves to her sleeping bag.
Still relevant in the new millennium, Kamali is now using technology to bring her fashion to people around the world (she also has a line of recession-buster clothes at Walmart, in case you're interested). Hear how she's using technology to "democratize fashion" at 11:00 AM ET on September 17th live at the Apple store in Soho (at 103 Prince Street, New York, NY) or get the podcast, which will be available from iTunes after the event.
And if you like Kamali's fashions, you can take advantage of her "Try Before You Buy" program, which lets you try on any clothes in her collection and return them within 48 hours—only shipping charges for returns apply. To determine sizing and get feedback on how to wear Kamali's styles, you can use Skype's video chat service to speak with a Norma Kamali stylist.