According to a survey by Century 21—one company spending big to advertise during the Super Bowl on Sunday—36 percent of those who plan to watch the game will do so while also using another device, such as a smartphone or tablet, with 42 percent of them checking sports news apps.
If tuning in to watch the Baltimore Ravens battle the San Francisco 49ers is on your agenda for this weekend, there are some awesome second-screen apps you'll want to download beforehand. Not only can you drill down to get more information about the game than you'll get with your TV alone, many of these let you chat with your friends about what's happening, plus many other interesting features.
NFL Mobile Premium
Serious football fans who are Verizon customers might not mind shelling out a pittance each month to be able to watch live football on their smartphones. With NFL Mobile Premium you get live video coverage of NBC Sunday Night Football, ESPN Monday Night Football and NFL Thursday Night Football during the preseason and regular season.
In addition to being able to watch the Super Bowl on your phone, you can also watch live video coverage of selected post season Wild Card Weekend games.
NFL Mobile Premium has a $5 a month subscription with the free app available in the iTunes Store and at Google Play.
Pro Football Insider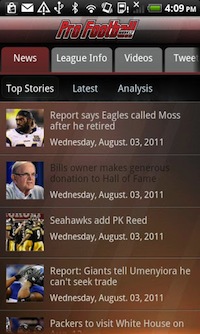 Chock full of NFL goodies for the hardcore football fan, this app gives you a wealth of league information such as news, analysis, scores and schedules, standings, player information, league leaders, comprehensive spreadsheets of player injuries by team as well as detailed listings of player transactions such as signings or when players are taken off injured reserve status.
On Game Day you might especially like Pro Football Insider's Twitter feed which streams tweets coming from league experts. The rest of the year you can also watch more than 1,000 videos through the app.
Pro Football Insider is free in the iTunes Store and at Google Play.
SportStream
This iOS app is a social media aggregator for sports that gives you commentary, play-by-play breakdowns, real-time player and game stats, and game previews and recaps.
You just tell SportStream which teams you're interested in and it provides you with tweets, Facebook posts, video, photos, play-by-plays and scores for the games you're following. Not only can you see what teams, athletes, coaches, reporters, analysts, fans and your friends are saying about the game, you can respond to them right within the app. It also will remind you when a game is starting so you don't miss out on any action.
SportStream is free in the iTunes Store for iPad only.
GetGlue
In addition to the actual football that will be played during the Super Bowl, lots of people get a bigger kick out of the commercials. In fact, nearly a third of social media users 18 to 54 years old are likely to use social media to talk about commercials.
GetGlue, which we recently featured in a guide for choosing the best second-screen apps, is fantastic because it lets you check-in to TV shows and movies you're watching, see what friends are watching, chat with other people viewing your shows, unlock stickers and discounts as well as share your comments and check-ins on social networks.
But now there's even more incentive to get it on your mobile device. Not only can you use GetGlue to vote for the best Super Bowl commercials as they air live, if you check-in to the Super Bowl using the app you will earn a free month of Hulu Plus (an $8 value). With Hulu Plus you can stream an unlimited amount of current and back season shows on your computer, smart TV, gaming console, mobile phone or tablet.
GetGlue is free on the Web and at Google Play and the iTunes Store.
Are You Watching This?!
RUWT, short for "Are You Watching This?", is a sports app for Android smartphones, tablets and Google TV. With it you get scores, news and TV listings for a slew of sports including the NFL.
Not only does RUWT act as a remote control for your TV with many models of TiVo, DirectTV and Google TV, it flags items in headlines, a scoreboard and a game grid with descriptors such as "epic," "hot," "good" and "OK" so you get a sense of what everyone is paying attention to at the moment.
Are You Watching This?! is free at Google Play.
Madden NFL 12
Don't like how the game is playing out? Pit the Ravens and 49ers against each other in your own virtual matchup and see if things come out better.
Optimized for use on tablets, this app from EA lets you pick which NFL teams to battle in true-to-life stadiums as well as make trades, track stats and use winning playbooks. Not only can you slow down the clock and play on offense and defense, you can pause the action to move players around or have them dive, spin, juke and sprint. Madden NFL 12 also lets you draw hot routes for passing, running and defense that you can save as audibles.
Madden NFL 12 is $7 in the iTunes Store and $5 at Google Play.
We hope one of these apps helps you get the most out of game day. If you are planning a big party, don't forget to check out our Guide to Online Super Bowl Recipes.