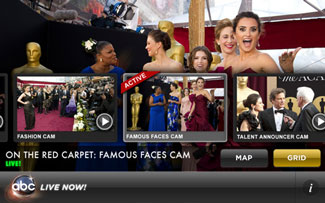 Like millions of other Americans, I'll be glued to my TV on Sunday, February 27, watching all of the Oscar Night action for the 83rd Academy Award. This year, I'll have a VIP pass that will take me behind the scenes—an app for my iPhone and iPad called Oscar Backstage Pass ($0.99 on apple.com).
On Oscar Night, I'll be able to access live video streams from many of the cameras that being used to shoot the event. That means special access to the red carpet, inside the Kodak Theater and even for the Governors Ball, which follows the awards ceremony.
Before the awards, you get a countdown clock and a selection of videos to get you in the mood. There are clips that cover Oscar news, a set of "The Best Oscar Moments," and coverage of the "Behind the Dress" competition.
The Oscar Backstage Pass app is primarily a TV watching companion for the night of the awards. If you're looking for information on the nominees and films, check out The Oscars iPhone and iPad app (free on apple.com). With The Oscars you can watch trailers of the films, read up on Oscar Night news, view past winners and make your predictions of who will win.