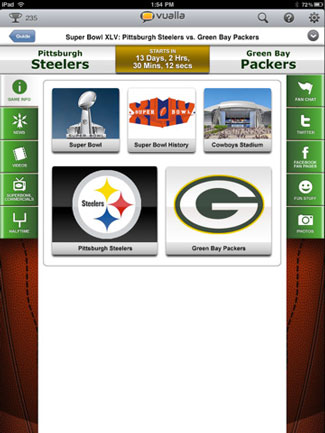 Just in time for the Super Bowl, the Vualla Social TV Companion app for iPad (free) app makes multitasking in front of the TV a fine art. Whether you're a Gleek, an Idol watcher or a movie aficionado, Vualla provides an online companion when your favorite program's on, with info on the show, cast and crew, related news, live fan chat and Twitter feeds on a single page. And for big events, starting with the Super Bowl, Vualla plans to produce special, feature-rich packages.
In addition to the regular information and chat features, the Super Bowl coverage adds Facebook fan pages, game photos, trivia, polls and predictions, and an interactive grid for entering your own football pool information. There's an extensive Halftime section, including highlights from past years and alternatives to the official Fox network programming. The Simpsons or Victoria's Secret? Decisions, decisions!
And, of course, there's a section on Super Bowl commercials, from the famous 1984 Apple ad to last year's Betty White Snickers commercial that basically launched her comeback.
Vualla isn't a practical replacement for the on-screen scheduling grid you already have, but it does help highlight shows you might have otherwise missed. You can select your favorite channels and programming genres and see scrolling lists of what's on now, or at a time you specify, at a glance. There are also sections for shows that are trending on Twitter, and those most viewed by Vualla users.
On a regular basis, though, the big draw will undoubtedly be live fan chat. Watching contestants voted off, disguised aliens unmasked and opposing players fail in epic ways is fun, but the enjoyment is multiplied when you have similarly passionate people watching it all "with" you, cheering or bitching and moaning in unison.