Today, Apple launched the latest iteration in the iPad lineup. Dubbed accurately, if somewhat unhelpfully, as "the new iPad", it offers significant improvements in performance, camera features and display quality over the iPad 2. But will these improvements matter to the typical user who uses his or her tablet for web browsing, email and reading ebooks? Most other specs on the New iPad are similar to the iPad 2: both get 10 hours of battery life; they weigh about the same (the new iPad is actually a touch heavier); and neither has an SD card slot.
Let's review the changes and figure it out.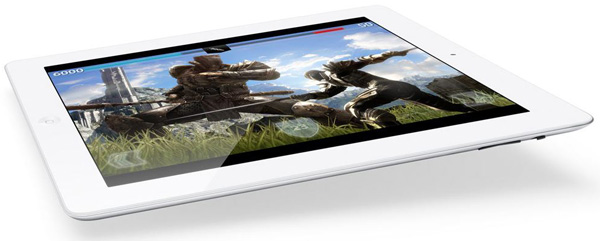 Higher-resolution display
The New iPad features a 2048 x 1536 pixel display, with a resolution of 264 pixels per inch. Apple say that this new display conforms to its "retina" classification, where the individual pixels are too small to see with the human eye at a typical viewing distance. Apple also claims 44% greater color saturation.

Verdict: For gamers and movie watchers, the upped resolution and color will make for a better viewing experience. And text should be slightly crisper for email and web browsing. But the iPad 2 display wasn't so bad, and most content—apps and movies—won't take advantage of the New iPad's resolution. We'll have to wait until we can do a head-to-head comparison to better judge the difference.
Better camera
The New iPad has a 5MP iSight camera with improved optics, image signal processor and software. We haven't had a chance to test it, but based on what we know, it should deliver vastly better photos than the iPad 2 (which produced dismal photos), and sample photos from Apple look fantastic. The New iPad also captures 1080p video, which also looked great in the samples.
Verdict: For those of you who shoot photos & video on your tablet, the New iPad will be far superior. For the other 95% of us, this feature will make little difference, though some may be converted by the improved quality.
Faster processor and graphics
The A5X processor and quad-core graphics should provide plenty of juice for gaming, video editing and other computationally intensive tasks, and the demos provided at the press conference were impressive.
Verdict: If you love gaming on your tablet or want to edit video, you'll want the New iPad. For typical users, the added power will be overkill and an iPad 2 will suffice just fine.
Text dictation
The New iPad has a microphone icon on the keyboard that allows you to dictate text with your voice, rather than typing it. Unfortunately, this is far from the Siri feature many were expecting.
Verdict: Android devices have had this feature since the beginning and I use it very infrequently. It's fine for short notes, but the hassle of saying punctuation marks, correcting acronyms, etc. just makes it too much of a hassle for longer missives. We'll see if the Apple implementation is significantly better, but I suspect that most users will stick with the keyboard.
4G LTE
LTE blows away 3G and "pseudo-4G" networks in our testing, and New iPad LTE models will be available for Verizon and AT&T. The New iPad will also act as a mobile Wi-Fi hotspot for other devices "if your carrier supports it."
Verdict: If you need access on the road, the 4G LTE iPads will offer vastly superior performance over the 3G iPad 2.
New iPad pricing
As with previous Apple rollouts, the price of the new iPad will be the same as the previous pricing of the iPad 2.
| Wi-Fi | Wi-Fi + 4G LTE |
| --- | --- |
| $499 16GB | $629 16GB |
| $599 32GB | $729 32GB |
| $699 64GB | $829 64GB |
Meanwhile, the iPad 2 (the "old iPad"?) is now available for $399 for the 16GB Wi-Fi model and $529 for a 16GB 3G version. The 32GB and 64GB versions are no longer being offered online.
Both of the New iPads are available for pre-order online and will be in stores on March 16th.
Conclusion
There were few surprises with today's announcement, but that doesn't mean that the improvements aren't important. Gamers and road warriors will appreciate the upgrades the most, though every user will get something out of the new, super-high resolution display.
For those looking to save a little money, the iPad 2 is a great deal at $399 and will put pressure on Android tablet sales until Apple runs out of stock.