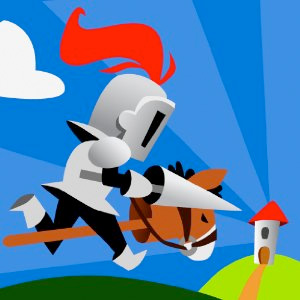 Lame Castle is a fast-paced dash-and-run game with a lighthearted medieval theme. Mount your steed, grab your helmet, and dash and jump through tons of danger-strewn levels.
Get Lame Castle from Amazon - Price: $1.49 Free
Gallop through 24 levels filled with deadly pits and obnoxious boulders. Try unique bonus objectives for each level, and shoot for a high score. At the end of each level, smash the lame castle of Wizzy the evil wizard, and garner the adoration of a generic pink princess.
Lame Difference
Get lost in four endless modes, and enter a nightmare maze of poor castle architecture.
Use a simple touchscreen interface to control your knight. Jump, double jump, and long jump with the left side of your screen, or press the right side to attack. Hit both for a jump-attack!
Lame-Faced
Get ready to punt chickens, loot treasure chests, and smash rocks. Don't stand idly by while lame castles remain intact!