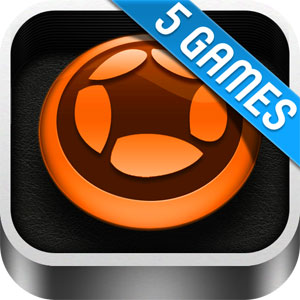 Used to getting just one game per mobile app? How would you like to get five different games in one package? It sounds too good to be true, but that's exactly what you are purchasing with this game bundle--five separate, complete games in one app: Grisly Manor, Robot 99, Walkabout, Chickens Quest, and Float..
Get Corona Indie Bundle from Amazon - Price: $0.99 Free
Grisly Manor
A visit to Grandpa's house always promised a little magic when you were a child. A fantastic engineer, he was always coming up with new ideas and inventions that never failed to amaze. But Grandpa has mysteriously vanished--it's up to you to explore his creaky house, solving the puzzles and uncovering the secrets that will explain his disappearance in this engrossing game.
Familiar objects around the house have been re-engineered to create a variety of challenging puzzles for you. Clues abound, and as each puzzle is solved, another one materializes. Grandpa obviously spent a lot of time making sure that only you would find him and uncover his big secret. Hopefully it's not too grisly!Santa's Elves
Kids can create over 10,000 different elves and arrange them in scenes with the elf-part stickers provided.
Robo
There is some magic in that ol' silk cap! Kids can construct endless variations of snowmen using the stickers provided.
Walkabout
Queenie needs your help collecting the Magic Stars scattered throughout her kingdom. But be careful: One wrong move could leave you trapped, with no way out. There are 64 levels to negotiate, split across four regions of the kingdom. While you travel, you will discover keys that unlock eight further bonus levels. You'll have to be at your best to complete them all.
Chickens Quest
It was a dark and spooky night. The animals are all sound asleep on the farm--but an evil presence lurks. Suddenly, a scream rings out. There's been a chick-napping!
Your job in Chickens Quest is to help rescue the chicks by guiding them home. There will be plenty of obstacles in their way, but these cute little peepers are counting on you to lead them back to Mama Hen, Papa Rooster, and safety. Along the way you can collect stars, earn helpful items, and pile up points as you move through increasingly difficult levels in this fun barnyard romp.
Float
Float is a game with a concept similar to Robot 99, only instead it's balloons rather than robots that you need to keep aloft. Tap the screen below the balloons before they reach the bottom, where sharp spikes await them. But whereas the robots drop like stones, these inflated objects peacefully float down the screen. Tap, bobble, and bump your way to fun. With multiple game modes (including Timed, Limbo, and Zen), various achievements, and leaderboards, this game contains something for everyone.