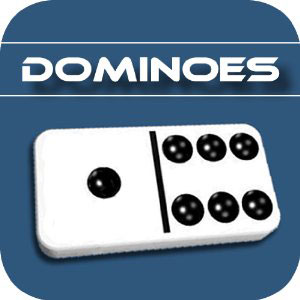 The game of Dominoes has been around for thousands of years. Historically carved from ivory or animal bone, the oldest known domino set was found in Tutankhamen's tomb. Dominoes games have been played by kings and presidents, and now Dominoes the app, from Polyclef Software, brings this ancient game to your Android device.
Get Dominoes from Amazon - Price: $1.99 Free
Dominoes keeps things simple with one basic domino game. Known as Straight Dominoes, Fives Up, All Fives, or Muggins, it is the most common variation of the game and is relatively easy to learn. Each player starts with seven dominoes from a 28-tile double six set. Players take turns laying down tiles, making sure that each tile has a value that matches the tile they are laying it next to, and scoring points whenever the total of the open ends adds up to a multiple of five. The game ends when one of the players reaches 250 points.
You Against the Computer
Dominoes features a computer AI opponent that will help you hone your skills for the next time you're playing against a real person. The interface is intuitive--simply drag dominoes on to the playing area just like you would in real life. Point totals are calculated automatically. In order to make the best use of limited screen real estate, some of the inner dominoes may become hidden as play progresses, but there is an option to show all played dominoes at any time.
A Few Simple Options
Keeping with the simple theme, Dominoes has only a few options to choose from. You can select one of four different board colors, and can play with or without sound. Players can alternate turns, or the first player out can go first each round. Lastly, games can be re-set at any time if things aren't going well.