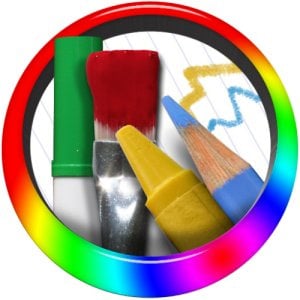 Turn your Android device into the ultimate, take-anywhere canvas with Drawing Pad. This complete mobile art studio delivers a beautiful, easy-to-use interface, a robust range of artistic tools, and high-definition graphics that allow artists to create the next masterpiece, designers to sketch out ideas, and the rest of us to doodle away to our heart's content.
Get Drawing Pad from Amazon - Price: $1.99 Free
Tools Galore
Drawing Pad has all of the tools you would have in your own art studio. You can choose from crayons, markers, paint brushes, colored pencils, and more all in a wide variety of rich colors. All these are stored in a virtual drawer that
Once you've selected your tool and color, choose which background paper to use. Your options include realistic textures, vibrant colors, and even under water and moonscape scenes. To draw or paint, trace your finger along the canvas. It's as easy as finger-painting.
Truly Easy to Use
Novice artists and kids will find Drawing Pad easy to use, while professionals will be satisfied with the range of tools and authentic output, from the grainy line of a crayon to the smooth strokes of the various paint brushes. Just choose your style of tool and your color to start creating right away!
Sticker Mania
Drawing Pad also features a fun mix of stickers to add to your art. The stickers run the gamut from planes, trains, and automobiles to lions, tigers, and bears -- as well as funny faces, flowers, sea creatures, and more. Pinch on the screen with two fingers to scale or rotate the stickers, and use the floating sticker toolbar to stamp them on the background, flip them, bring them to the front, lock them into position, or delete them.
Erase Options
If you goof up, tap the pencil eraser icon to erase your work. Select a small-, medium-, or large-size eraser or opt to erase everything and start over. The left and right arrows at the top of the menu bar are undo/redo options that allow you to easily correct any mistakes or go in a different direction with your design.
Save and Share
Once you've completed your work of art, simply tap the USB stick icon with your finger to save it. The app also features an album to conveniently store your artwork. For those artists who like to show off their new creations, in-app options let you share the images using e-mail, Twitter, and Facebook. You can also send the picture to any other app on your device that accepts or uses pictures.