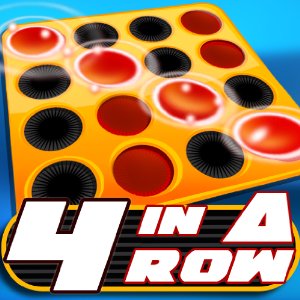 4 in a Row has never been so much fun! It's just like the popular game you played as a kid, but without the easily lost and shaky plastic parts. Challenge the computer or play against a friend in two-player mode, and enjoy the nostalgic throw-back with fun new themes, sharp graphics, and easy touchscreen controls. The goals of the game are just as you remember: connect four or more pieces in a horizontal, vertical, or diagonal row.
Get Fantastic 4 in a Row HD from Amazon - Price: $0.99 Free
Whether you are in the mood for the classic checkers theme or something more seasonal, Fantastic 4 in a Row HD has three great themes to choose from. Classic features the traditional red and black checker game pieces you remember, while the Jammin' Sports theme will keep you pumped with basketball and soccer ball game pieces. The third theme confirms Christmas is great any time of year with red and blue ornaments as game pieces.
Once you select your theme, decide which difficulty level you're in the mood for. Easy is great for kids or those that might need a little refresher. Step it up with Medium, and really challenge yourself with the Hard and Expert difficulty levels.
Great Graphics and Fun Background Music
Throughout Fantastic 4 in a Row HD, you'll enjoy crisp graphics and intuitive controls. The game features 10 different songs so you can enjoy some tunes while you practice your 4-in-a-row skills. Of course, you can turn the music and sound effects on or off.