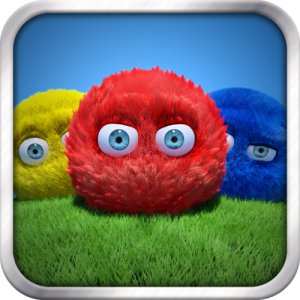 Fling! offers a challenging yet cute puzzle game with territorial yet cuddly contenders. Facing a field of colorful, dough-eyed furballs, fling one into another until only one victorious furball remains. Don't get too confident; plan your moves carefully, or you're sure to share the board with other furballs and no more moves.
Get Fling! from Amazon - Price: $1.00 Free
Becoming King Furball
Imagine your field as a grid. Fling furballs along a line into other furballs, causing the targeted furball to roll off the board. Furballs who are side-by-side cannot fling the other off of the board. They must be separated by at least one space. Furballs cannot be flung off the board unless knocked off. Use the undo and hint buttons when you get stuck.
It's a Furball Frenzy
Enjoy Fling! in four game modes: Free Play, Arcade, Challenge, and Frenzy. Freeplay mode allows you to solve puzzles at your own pace, and at any level of difficulty you choose. Unlock harder difficulty levels for a greater challenge. Arcade mode is a race against the clock as you solve puzzles of increasing difficulty before the clock runs out. Challenge mode requires you to solve sets of puzzles within a specific time frame, while trying to beat your personal best. Frenzy mode is a total fling-fest! Keep the board from filling up by flinging same-colored furballs from the board.
Fling! features 100,000 unique puzzles, so you will never encounter two puzzles that are the same. The puzzles are categorized into 35 levels of increased difficulty. Each puzzle has a single, unique solution.