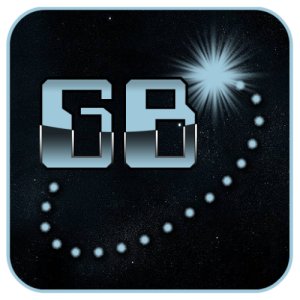 Gravity Burst is a 2D physics-based arcade game that requires you to shoot enemies from your orbital base, rather than chaotically flying thorough the cosmos firing at everything. Using the slingshot effect of other planets, carefully launch your missile to take out all enemies by pulling the trigger only once. This is a much more cautious and calculated approach.
Get Gravity Burst from Amazon - Price: $0.99 Free
The answer is physics. By aiming your missile strategically, the gravitational pull of the planet will keep your missile in orbit--unless, like Newton taught us, an external force is applied. In other words, don't crash into something. Your enemy lingers somewhere among the planets. If you miscalculate, your missile may crash into the planet or other obstacles before taking out the enemy aircraft.
Carefully assess your environment when planning your attack. Determine what could get in the way of your missile's orbit and try to navigate around it. All obstacles and enemy aircraft remain stagnant, so you are not aiming at a moving target.
Staying in Motion
With more than 90 unique levels, two game modes, and three exclusive bonus levels just for Amazon customers, you've got plenty of missiles to keep in motion. Additionally, as you progress through levels you'll earn unlockable content and achievements.