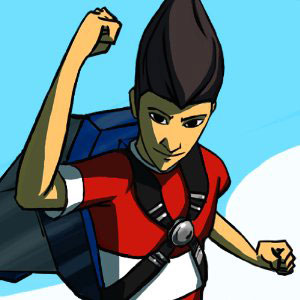 Take flight in the dangerous skies of Machine City as you help young rocketeer Arreon perfect his jetpack prototype. High Flyer Jetpack Tests brings the dream of personal flight to your smartphone and tablet. Strap on your jetpack and take flight in this 3-D aerial adventure.
Get High Flyer Jetpack Test from Amazon - Price: $0.99 Free
The jetpack tests takes place 16 years after the Thundering. This great cataclysm destroyed the world as we know it, and Earth's survivors now live on the floating city of Caen. The Earth has changed, but that doesn't stop Arreon from fulfilling his dream of exploring the skies.
The Ultimate Test Pilot
Arreon is testing out a series of jetpack designs, and you're the lucky test pilot. You will roll, dive, and dodge your way through dangerous obstacles in order to safely land on the floating islands in the sky. Along the way, you must snag valuable resources.
Fly Like an Eagle
You'll fly up to speeds of 300 MPH, acquire awesome Boost and Speed rings, and zoom through a Warp Tunnel. Earn extended jetpack activation zones, and negotiate your way through gas clouds and other hair-raising obstacles. High Flyer Jetpack Tests is not for the faint of heart.
Take on 35 unique mini-games in a series of challenging environments. High Flyer Jetpack Tests includes a hands-on tutorial, full calibration and control settings, story trailer, and a sweeping musical score befitting an airborne epic. Who needs the airlines when you have your own personal jetpack?
High Flyer Jetpack Tests is 69 MB. Please note you must a Wi-Fi connection to download this app.