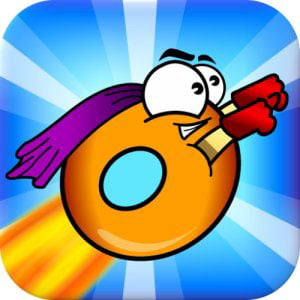 How hot are you, little donut? Are you sizzling hot, just warmish, or downright soggy? Find out when you roll, jump, and dash your way through four awe-inspiring worlds in the fun Android game, Hot Donut.
Get Hot Donut from Amazon - Price: $2.99 Free
Meet Hot Donut
This pastry-turned-action-hero obviously means business. He's dressed for success in his purple cape, red gloves, and Superman stance. He also has large eyes meant for spying ... fireflies, which, if you're lucky enough to catch, give you extra points.
Colorful Worlds and One-Touch Controls
The fun begins in an idyllic mountain scene with plenty of hills and valleys to traverse, chasms to jump, clear skies to fly through, and shimmering fireflies to catch. Simple one-touch controls are easy to learn. Just touch anywhere on the screen to increase gravity and roll down hills; let go at the top of a hill to fly. Touch two thumbs to dash and float over those big gaps.
Hints, Power-Ups, and Gifts
Great for kids, the app also provides written hints as you play, which will save you from getting fried or otherwise spinning to your death.
You can also earn free power-ups that allow you to dash upward, float in mid-air, or get a spontaneous boost of speed. Gather gifts too and enjoy upbeat music as you play. See how many dozens of levels you can polish off and watch as your score heats up.