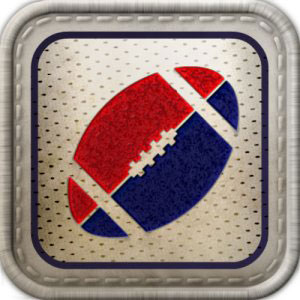 Bring the fun and accessibility of flick football to your Android device with this casual sports title from PikPok Games. Try to make kicks from different angles and distances, and even take into account shifting wind speeds and directions. Choose from Sudden Death, Arcade, Time Attack, and Practice modes, then use the intuitive flick controls to begin playing right away. Easy to pick up but hard to put down, this classic time-killer is sure to appeal to casual gamers and die-hard football fans alike.
Get Flick Kick Field Goal from Amazon - Price: $0.99 Free
In Flick Kick Field Goal, players take on the role of a field goal kicker on a football team as they try to make kicks of varying difficulty through the goalposts at the end of the field. Pick one of four different game modes: Practice, Sudden Death, Arcade, or Time Attack, and try out Flick Kick Field Goal's intuitive control system to begin making kicks like a pro.
To make a kick, simply line your finger up with the football and flick the touchscreen in the direction of the goalposts. Not every kick is straightforward though: experiment with curving left or right in your followthrough, or give a longer swipe to kick the ball further. Find the technique that works for you, then adjust each kick to account for changing windspeeds and angles.
Challenging Conditions
To add to the difficulty, factor in winds that can come from any angle or change severity with each kick. Anything from a light breeze to gale force winds must be taken into account if you want to succeed.
Online Scores and Achievements
Flick Kick Field Goal features online leaderboards and achievements with OpenFeint support. Rack up the points and then post your newest scores to Flick Kick's global leaderboards. Think you're good? Show off your skills online as you compete against others for the top spot!
Multiple Game Modes
Sudden Death
Challenge your concentration with this classic test of skill. Score as many field goals as possible without missing a kick. With no time limit given, just focus and keep making kicks to add multipliers to your score.
Arcade Mode
Make three kicks at eight different positions. Adjust your aim to score as many points as possible, then use the third kick at each position to score additional bonus points. Keep making successful field goals to build up a score multiplier, but watch out for changes in wind strength and direction: you'll need nerves of steel to keep that multiplier going under pressure!
Time Attack
Score as many goals as possible within the given time limit in this quickfire flick kicking challenge. As each successful field goal adds on bonus time, you'll have to keep cool and maintain steady aim to rack up a new highscore.
Practice Mode
Take the pressure of scores and time limits off your shoulders as you perfect your technique and learn how to become the best flick kicker in the world.
Key Features
Simple and intuitive flick controls make it easy to pick up and begin play
Challenging gameplay with shifting windspeeds and target distances
Loading screens with famous football quotes and trivia
Roaring crowds and full 3D graphics bring a new level of realism to flick football
Compete against others through OpenFeint online scoring and achievements