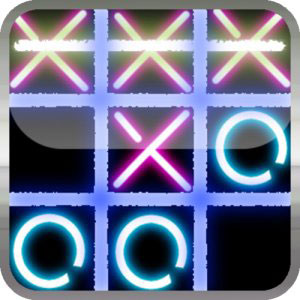 It's glow time! Play an illuminated version of Tic Tac Toe with this classic game for your Android device. Glow Tic Tac Toe features smart, simple gameplay and a distinctive look that's easy on the eyes. Challenge a partner or take on the computer--you'll find yourself playing again and again.
Get Glow Tic Tac Toe from Amazon - Price: $0.99 Free
You've played plenty of Tic Tac Toe in your life, of course, but not like this. Neon-like graphics make the game board seemingly leap from your screen, offering a fresh, newly entertaining experience with this age-old favorite.
What makes Glow Tic Tac Toe really stand out, though, is what's under the hood. The game's AI (artificial intelligence) adapts to your playing style and makes moves that are highly unpredictable. So even if you don't have a friend nearby to play with, you can enjoy a consistently challenging experience that evolves with each game.
In addition, the AI's skill level can be adjusted on the fly, in the middle of a game. There are three difficulty levels to choose from, so you can crank up the challenge while you're playing--or bring it down a notch if you get cornered.