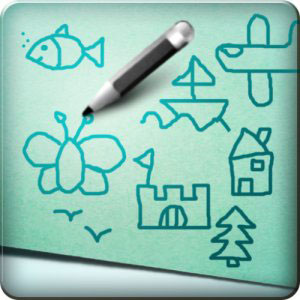 If Rembrandt and Picasso had smartphones as kids, Learning to Draw is Fun would have been their favorite app. If you want to teach your kids how to draw, try this easy and fun app. Learning to Draw is Fun allows kids to try their hand at 20 different pictures, and then gives them a full color palette to finish their masterpiece.
Get Learn to Draw from Amazon - Price: $1.99 Free
First, the budding artist chooses which design to draw. Learning to Draw is Fun features twenty cute pictures including a butterfly, snowman, pig, flower, and birthday cake. The artist then follows four easy steps to reproduce the picture. You can erase the picture at any time.
Artsy Tools
Once the picture is done, the child can go to a full color palette to finish the picture. Choose from 15 different colors with six different brush stroke sizes.
Share the picture through e-mail, Facebook, and Twitter, or set it as a wallpaper. You can also get the details of the picture's file size and resolution within the app.
Warning: This app may inspire your child to become an art major. But at least your kid won't be drawing on the living room wall.