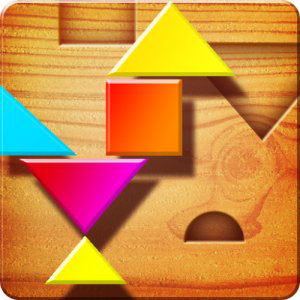 My First Tangrams includes 36 Tangram-style puzzles that have been simplified for young children. Featuring vibrant colors, smooth animations, and a clean interface, this app helps kids recognize shapes and objects while improving spatial skills and having fun.
Get My First Tangrams from Amazon - Price: $1.99 Free
Puzzles appear on a wooden backdrop, with the puzzle outlines on the left and colorful puzzle pieces randomly arranged on the right. The pieces are already properly oriented, so rotation is not required. Simply touch a puzzle piece and drag it to the appropriate space. If correctly placed, you'll be rewarded with the sound of a bell.
Puzzle-Solving Star
My First Tangrams features kid-friendly objects including a boat, a fish, a house, a flower, and much more. You'll also enjoy relaxing background music while you play. Best of all, you'll feel like a puzzle-solving star when you hear the applause after successfully completing each puzzle. Have fun learning shapes and solving puzzles with My First Tangrams.