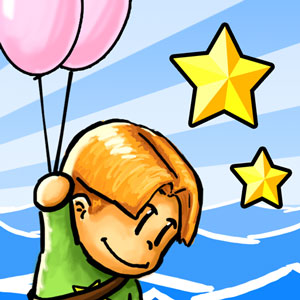 Helium Boy is a playful 3D platform adventure game that will have you soaring high above diverse landscapes on your quest to collect bright yellow stars. If you've ever wanted to fly, now you can with this gorgeous app.
Get Helium Boy from Amazon - Price: $1.99 Free
Up and Away
Grab a few balloons, tap the Jump button, and you're on your way, flying above houses and trees, over water, and across chasms. Be careful to time your moves correctly or you'll fall to your death. Watch out for birds, ninjas, and other spiked things that will burst your balloons or otherwise get you killed.
Stars and Shadows
If you need to pass under obstacles or want to lose altitude to gather stars, just drop your balloons and go it on foot. When you're ready for more flying adventures, simply tap the Pump button and it's up and away. To judge the distance between objects and navigate your way more skillfully, keep an eye on your shadow.
Where Will the Winds Take You?
Helium Boy boasts amazing graphics, lighthearted music, imaginative scenery, and adventurous gameplay that will challenge and delight both children and adults. Choose between two modes (Beginner and Normal), fly your way through eight challenging stages, and remember to watch out for the ninjas!