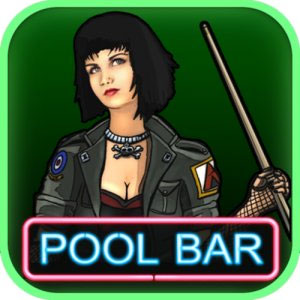 Calling all pool sharks! Casual league players and those that like to shoot some pool with friends after work and on the weekends are also welcome. Whether you're an award-winning pool pro, or just think you're a pro, Pool Bar HD is the app for you. With realistic 3D images and accurate physics as well as a variety of classic games and difficulty levels, Pool Bar HD is a must have for all pool lovers.
Get Pool Bar HD from Amazon - Price: $.99 Free
Play 9-Ball and 8-Ball
Pool Bar HD features three games in one. Players can test their skills with the classic 9-ball or show their allegiance and play American- or British-style 8-ball. Either way, you'll feel like you just stepped into your favorite neighborhood pub for a game of pool and a pint. To immerse yourself in the experience, ambient bar sounds and music as well as true-to-life sound effects accompany your gameplay.
Realistic Play
To start, select whether you'd like to play by yourself or with a friend, and then select the type of pool game to play. Before you chalk up your pool stick, you need to select the number of racks to play (one or best out of three or five) and aiming levels (standard or expert). The game was designed to mimic real-life pool with full touchscreen interface for highly accurate, intuitive control and spin. A guide to the game controls is presented at the start of the game. Swipe to aim and shoot; tap to move the ball and adjust the camera view; and tap the cue ball to add spin. You can control the force of your shot with your finger. During game play, you can hit the pause button at any time to see the controls again, or if you are interrupted.
Play Against a Friend or the App
Pool Bar HD supports single or two-player mode. Each player gets to select their avatar: Johnny, Cynthia, Kim, or Victor. If you choose to play against the app, your opponent's avatar is automatically selected. In single-player mode, choose from easy, medium, or hard skill levels. Watch out though, you better know what you're doing in the hard level if you don't want to hear the bar "boo" at the end of the game. If worse comes to worst, you can always concede the match and practice your amateur skills.