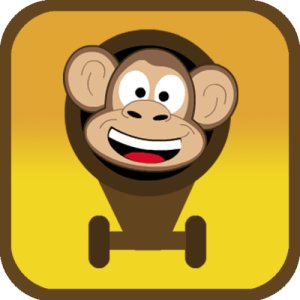 Sometimes a monkey loves fruit so much, he'll do anything to get some more. Too high up? Too far away? Not for this mischievous monkey!
In Preschool Cannonball Monkey, a quirky and fun Android game for young children, a fruit-fixated monkey has gotten really creative in his pursuit of the perfect meal. He's devised a cannon to propel him into the air, where he can pick all the fruit as quickly as possible.
Get Preschool Canonball Monkey from Amazon - Price: $0.99 Free
Your job is to aim the cannon carefully and then send the monkey flying! As he whooshes through the air, he'll blast through rows and columns of delectable fruits, grabbing as many tasty treats as he can.
Eat your way through more than 30 levels of charming gameplay in this toddler-friendly game. You can pause the game at any time by double-tapping the screen.
Help the monkey fill his hungry tummy with delicious fruits. Ready, aim, and have fun!