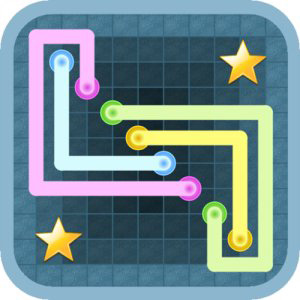 Test your mental might with Router, a circuit puzzle game that's fun for the whole family. Your goal is to connect identically colored points with continuous lines without any of the lines overlapping each other. Game controls are easy to master, but some of the puzzles will have you quite perplexed until you find the right solution to connect the dots. With multiple challenging chapters to solve and engaging game-play features, Router is a winner for puzzle lovers.
Get Router from Amazon - Price: $1.99 Free
Router features nine different chapters, each full of more than a dozen puzzles that increase in difficulty as you progress. In each puzzle, you will connect the similarly colored dots with continuous lines by tracing your finger on the screen. More advanced levels will present you with more dots in new and unique positions. You will earn more points for making shorter connections. An undo button is provided if you make a mistake.
As you would expect, Chapter 1 starts off easy enough, but the difficulty soon picks up. Each subsequent chapter will require increased intellectual dexterity. Once you hit Chapter 3, you will be required to earn enough points in prior chapters to unlock more.
Earn Bonus Points; Get Hints
If your mental acuity is up to the task, you'll be able to solve each puzzle with a perfect five-star score. For your efforts, you will be rewarded with a Star Point, which you can spend to gain Hints if you find yourself stuck in subsequent puzzles. With a worldwide leaderboard, you can see how your scores stack up with other players from around the globe.
Electrifying Graphics and Smooth Controls
Router brings you hours of brain-teasing fun along with smooth touch controls, which makes for a completely satisfying puzzling experience. Depending on your device, you can adjust the quality of the graphics as well as the sound volume and other game settings to ensure it suits your preferences.
What are you waiting for? Get puzzling!