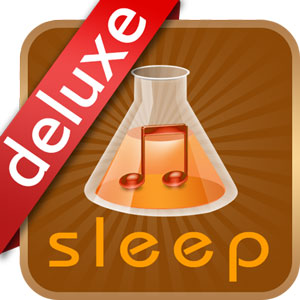 Sound Sleep Deluxe Edition (Music Therapy) is an Android music app that is designed to help you unwind and relax, so you can sleep more soundly. With low-speed alpha waves, the sounds will comfort your mind and help you to naturally and smoothly fall asleep. The app is easy to use, so you can simply let the soothing sounds carry you off into a deep and restorative slumber.
Get Sound Sleep Deluxe from Amazon - Price: $2.99 Free
Ambient Sound Mixer
There are plenty of natural noises to select from in Sound Sleep Deluxe Edition, such as ocean waves, gentle rain, and other pleasant ambient sounds. The Deluxe Edition of Sound Sleep (Music Therapy) features a sound mixer that allows you to customize each track. You can include one or several ambient noises, and adjust the volume of each for the perfect mix.
Creative and Enriching Sounds
The tracks offered in Sound Sleep Deluxe Edition are far from so-called leisure music. Rather, you'll experience relaxing natural sounds with embedded alpha waves, which are delicately set to a rhythm of a specific frequency. Certain sound effects also have the potential to awaken the subconscious to soothe you as well as spark your imagination and creativity.
How It Works
The low-speed alpha waves in Sound Sleep Deluxe Edition have a frequency of 8 Hz to 9 Hz, which stimulates a brain state that is close to sleep. To generate such a frequency in the listener's brain, binaural beats are applied. For example, if the left ear is presented with a steady tone of 500 Hz and the right ear with a steady tone of 508Hz, the difference, 8 Hz, is perceived by the brain and is a very effective stimulus for brainwave entrainment.
You will also enjoy the app's elegant interface, varied music themes, and options to specify listening time and set an alarm. Let the sounds in Sound Sleep Deluxe Edition help you to feel more relaxed and sleep more soundly.