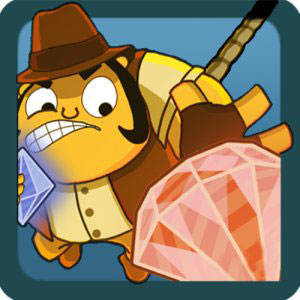 Test your adventuring skills in Twist n'Catch, an action-packed game of puzzles and dexterity for your Android device. You're the intrepid explorer Emmet Black, and your gig is treasure hunting. Travel the world over, discover exotic places, and bring back riches galore!
Get Twist 'n Catch from Amazon - Price: $1.06 Free
Accompanied by your faithful companion, Sergeant Cookie, you drop yourself into dangerous realms in search of diamonds and sapphires. Held in mid-air by nothing but a rope and your own self-confidence, your task is to find a way to collect gems while avoiding innumerable obstacles and traps.
To the Victor (and Sergeant Cookie) Go the Spoils
There's no shortage of fun in this test of skill and prowess. Solve more than 120 levels as you explore three full universes of adventure.
You'll swashbuckle your way through Aztec temples, ancient Egyptian tombs, deadly pirates' lairs, and much more, marveling at the exotic sights and steeling yourself against unknown terrors you have yet to face.
Do you have the courage to forge ahead where other adventurers have turned back? Will your rope twist at just the wrong moment? Will Sergeant Cookie toss his cookies? There's only one way to find out. Good luck!