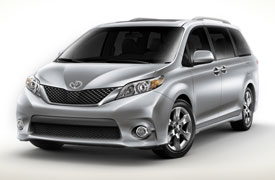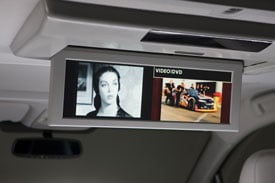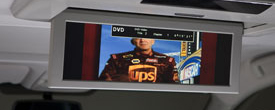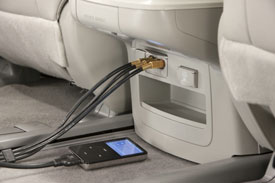 Toyota will give parents a new tool in their kid-quieting arsenal next February when the re-designed 2011 Sienna minivan arrives at dealerships: the world's first factory-installed dual-view rear-seat entertainment system, featuring a supersized 16.4-inch widescreen that can simultaneously show two different video sources.
The screen is actually two displays that sit side-by-side in a single housing. They can be used together to seamlessly show video from a single source, such as a DVD. Or they can be used separately—letting one kid watch a movie on her side while the other plays a videogame or watches a second movie on his, using a portable game console or DVD player plugged in to the entertainment system's auxiliary inputs.
Parents can also get another world's first for themselves in the new Sienna: a panoramic rear-view camera that offers two ways to look behind the minivan, including one that sees a full 180-degrees.
Pricing for the five 2011 Sienna models (Sienna grade, LE, SE, XLE and Limited) will be announced later—but Toyota has already promised the starting price will be lower than that of the current 2010 model, which is $24,540.