Yesterday would have been my father's 68th birthday. I traipse through the 4th of August every year with a heavy heart. Joseph Michael Fabiano passed away in October of 1984, when I was just 5 years old. We had a short 8 months together from the time my parents learned he had aggressive pancreatic cancer to the day he closed his eyes for the last time. This piece of me is something I keep close to my heart and rarely talk about, even with family and my closest friends. So why am I blogging about it?
Well, yesterday I was feeling emotional and tweeted completely out of character.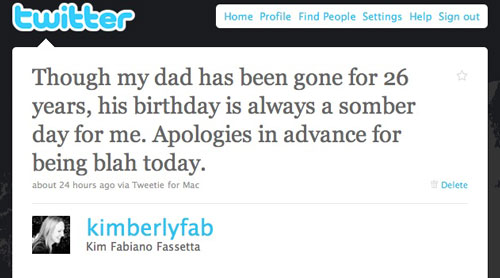 And the result of that tweet is the reason for my post today. Though Twitter may be meant for people to share fleeting thoughts, good, bad, emotional or indifferent — I've made a point not to use it that way. While I'm open about my likes and dislikes, share articles and blogs that impact me or introduce friends that I see commonalities between, my stream rarely reflects a sour mood, and never reflects my innermost layer. Don't get me wrong — I've been vocal about an off mood before — but never so personal. There's not much behind why that is, other than of course, just maintaining a generally positive attitude as any PR professional would.
But yesterday was different for me. I tweeted my raw thought at a moment in time with abandon. It helped me momentarily release a little tension, the kind that is normally reserved for my diary [Note to anyone close enough to dig through my closet — this diary is purely mental and resides only in my head.] Typing those two sentences publicly gave me the temporary push I needed to put my 'blah' mood on the back burner and get on with a busy day.
The unexpected result was a bevy of DMs (direct messages) from the Twitterverse. There were a few from friends (old and new) just sending a virtual hug, another a personal story of similar loss, and one was a random off-color joke meant to make me giggle (which it did). I laughed and cried intermittently, and all together it resulted in the least gloomy August 4th in as long as I can remember.
So what to share on Twitter? Go ahead; bare your soul at will. And who cares? You might be surprised.
This post originally appeared in Kim's soclial4media blog.