Do you take pictures of yourself, kids or groups of people? I'm sure you said "yes" to at least one. That's the beauty of the secondary front-facing LCD display on Samsung's DualView cameras, the TL225 and TL220. The unique solution is perfect for framing yourself in a shot or getting the attention of your subjects.
Look for these cameras to hit stores in September, 2009.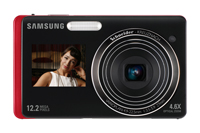 Self-Portrait: You're standing in front of the Eiffel Tower in Paris. Instead of asking a stranger to compose the shot, you can with the help of the front LCD.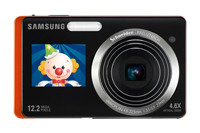 Child Portrait: You're trying to get your 2-year-old to smile for the camera. Instead of making goofy faces, you turn on Child Mode and the display plays a cute animation of a clown (Additional animations will be available).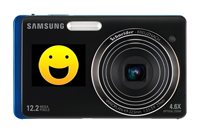 Group Photo: You're trying to get everyone to look at the camera when you're ready to take the shot. Tell everyone to smile when they see the smiley face show up on the front of the camera (the smiley only face appears when you pre-focus by half-depressing the shutter button).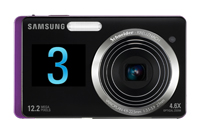 Or, if you want to be in the shot, instruct everyone to watch the countdown timer on the front display.
Samsung DualView TL225
Resolution: 12.2MP
Lens: 4.6x optical zoom by Schneider-KREUZNACH
Display: 1.5-inch (front), 3.5-inch touchscreen (back)
Video: HD video at 720p (HDMI out with optical adapter)
Available in September 2009 for $350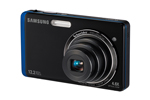 Samsung DualView TL220
Resolution: 12.2MP
Lens: 4.6x optical zoom by Schneider-KREUZNACH
Display:1.5-inch (front), 3-inch touchscreen (back)
Video: HD video at 720p
Available in September 2009 for $300