Join us for a Techlicious Tea Event
Date: Thursday, July 11, 2013
Time: 1 p.m. ET/12 p.m. CST/11 a.m. MT/10 a.m. PT
Hashtag to follow: #techtea
Hosts: @techlicious @suzannekantra @c2cmom @23andme @CeCeLMoore
You probably know where your grandparents came from, and maybe even a couple of generations before that. But what about your ancestors from 500 years ago? How about 10,000 years ago?
During the party, we'll be talking about researching your ancestry including:
Are genetic personality traits based on where you come from?
How you can find out your ancestral origins in relation to 22 worldwide populations.
Do you have "hidden DNA?" Trace amounts of DNA from another ethnicity?
Can you trace lineage back to famous figures such as Marie Antoinette and Thomas Jefferson?
What percentage of your DNA came from Neanderthals? Yep, that's right. We all have some Neanderthal genes in our DNA. How much do you have?
Modern genetic testing from our sponsor 23andMe can help you find out. The 23andMe DNA analysis is easy to do—order a kit online, provide a saliva sample, and send it back with the provided return postage. Once the lab has completed your genetic analysis, you can access your personal results in a secured online account.
We'll also be giving away 23andMe DNA test kits to three lucky participants!
Enter for a chance to win a 23andMe DNA test kit: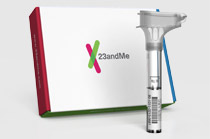 We're giving away DNA test kits (MSRP: $99) to three lucky #TechTea participants, courtesy of 23andMe!
How to Enter:
RSVP by commenting below for a chance to win! Enter your name and Twitter handle. To be eligible to win you must RSVP and participate in the event using #techtea.
Official Rules
We will randomly select three (3) winners from the entries. No purchase is necessary to win. Void where prohibited. U.S. residents only. Click here for the full rules.