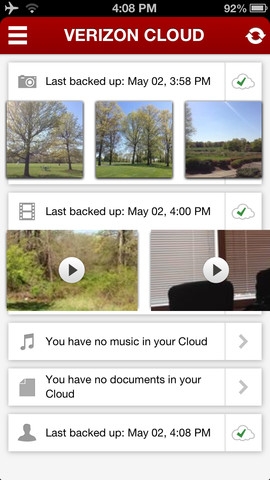 Looking for a safe place to back up the photos and data on your iPhone? Sure, you could trust Apple's cloud, but if you want to double up on your security, Verizon has just released a free cloud storage app for its iPhone users.
The app is somewhat basic, but really, that's all it has to be. It provides a simple way to back up your photos, videos, music, and documents. Once backed up, you can use the app to stream content from the cloud or share photos with friends and family. The only thing you'll need to get started is your Verizon password.
If you're interested in seeing how Verizon's cloud service stacks up against the competition, check out our rundown of the best cloud sync storage services available. You may also want to consider encrypting important files before allowing them to be sent to the cloud.
Verizon's app is free to download on iTunes. The basic cloud service Verizon offers is free, though customers are limited to 500MB of cloud storage. Once you reach that limit, you can buy an extra 25GB of storage for $2.99 per month or 125GB for $9.99.