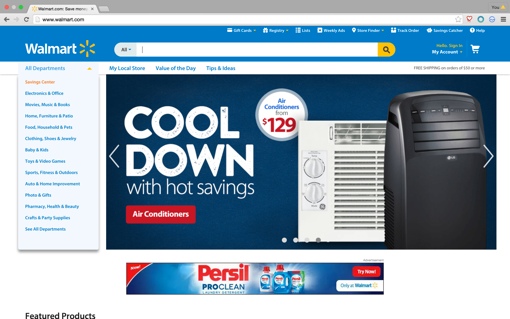 Retail giant Walmart is about to copy one of Amazon's best ideas. According to news service Reuters, Walmart.com is preparing to test a new 3-day-or-less unlimited shipping offering for $50 per year. Like with the Amazon Prime unlimited shipping offering, only certain items available on the Walmart.com website qualify. It will only be offered on an invitation-only basis; it's not certain if or when it will be extended to all shoppers. "Depending on customer feedback we will see how the program evolves," says Walmart spokesperson Ravi Jariwala.
Walmart's unlimited free shipping may be a highly attractive feature to some bargain-minded shoppers, as it's only half the price of a $99 annual Amazon Prime membership. That said, there are key differences between the two. Amazon Prime offers 2-day shipping (with 1-hour shipping available in NYC), along with access to the Kindle e-book lending library, unlimited photo storage, the full Amazon Instant Video library, an on-demand music library and much more. Amazon also has a vastly bigger catalog of items available for sale – approximately 300 million to Walmart.com's 7 million.
After a slow start, Walmart has been making moves to extend its brick-and-mortar dominance to the online world, like its online grocery pick-up service. The company's online success, however, has been limited. Part of the reason may be the fact that Walmart's offline business faces few serious competitors on price and scale. That's not the case online, where Amazon typically ties or bests Walmart on both counts. It will be interesting to see if this new shipping service winds up being successful, as the company definitely needs to increase and improve its online presence to maintain its level of retail dominance in an increasingly digital world.
[Image credit: Walmart.com]