Congratulations to our winner: Serenity from Raymondville, TX!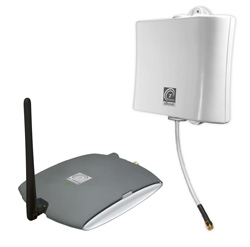 Are there rooms in your home where you wish you could use your cell phone but you just don't get a good signal? An indoor signal booster, like the zBoost METRO from Wi-Ex, can help.
Designed for use in apartments and small homes, the zBoost METRO can boost signal for an area up to 1500 sq ft inside your home. Simply mount the zBoost METRO's antenna inside a window in your home where you get the best reception (using the included suction cups) and then place the base unit where you want to strengthen the cell signal.
The zBoost METRO works with all U.S. cellular providers - AT&T, Sprint, T-Mobile and Verizon - and enables you to take full advantage of your cell phone's voice, data and Internet services, including 3G data, streaming video, instant messaging, sending pictures, and more.
Benefits include:
Supports multiple users simultaneously
Decreases dropped or missed calls
Easy to set up – comes complete with everything you need
No cradle or connections to your phone
Extends phone battery life (uses less power when signal is stronger)
The zBoost METRO retails for $299. Enter the zBoost METRO giveaway through September 27th, 2011 for a chance to win one of your own!

To Enter for a Chance to Win
Sign-up for our FREE Techlicious Newsletter—be sure to provide a valid email address when you sign-up so we can contact you if you win. If you're already a subscriber, skip to step #2.
Once you have subscribed, tell us in a comment below "In what room do you use your cell phone most?"
(IMPORTANT: If you use the Facebook login feature for your comment, please provide your email address)

Want an extra chance to win? Of course you do!
Become a Fan of the Wi-Ex zBoost Facebook Page. Just "Like" it in the Facebook box and the post a second comment below for your Facebook entry. Already a fan of Wi-Ex zBoost? No worries. Just tell us below in a comment.
See Official Rules below for more details.

Official Rules
We will randomly select one (1) winner from the entries. No purchase is necessary to win. The giveaway will end at 11:59pm on September 27th, 2011. Void where prohibited. U.S. residents only. Click here for the full rules.