Holiday 2013: Tech Gifts for Your Significant Other
Techlicious editors independently review products. To help support our mission, we may earn affiliate commissions from links contained on this page.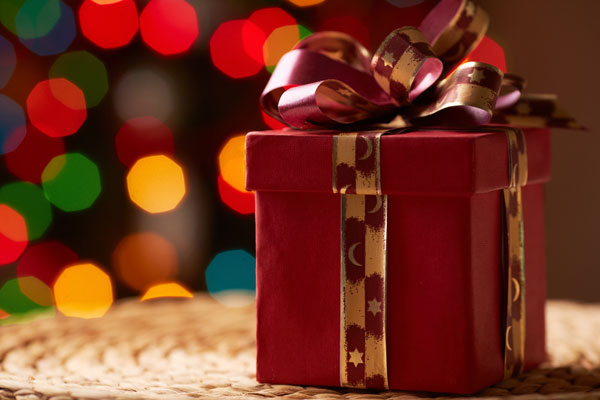 Need gift ideas for your significant other? A tech item that suits their style and meets their needs is just the thing. Check out the following selection of sure hits and shop our store for gifts under $50 and our Techlicious Best award winners.
iPad mini with Retina display
The iPad's great selection of apps combined with Apple's straightforward user interface makes it the top tablet choice of many a tablet aficionado. But even the most devout Apple fan has to admit that the iPad is a pricey tablet — which is why our pick is the iPad's little brother, the petite iPad mini.
The new iPad mini with Retina display features the same high-resolution screen and speedy A7 processor the iPad Air has for $100 less. But don't think of the mini as a budget tablet; the only difference between it and the larger iPad Air is screen size. And we happen to think that the mini's 7.9-inch screen is the perfect size for easy carrying.
Price: From $399 at Apple or from $321.99 at Amazon
Fitbit Force
We loved Fitbit's Flex wristband for tracking your activity and syncing wirelessly with your computer or smartphone. We like the newer generation, the Fitbit Force, even better. The Force takes Fitbit's excellent fitness tracking band and adds a display and button for even easier interaction — and it's easily the best fitness gadget on the market this holiday season.
For the fitness enthusiast, the Force is a great way to track how active you are and monitor progress toward your fitness goals. The Force integrates with popular fitness apps like RunKeeper, Endomondo and My Fitness Pal to help you keep track of your fitness routine without having to learn a new app.
Price: $129 at Fitbit
Everpurse
If there's one thing all smartphone owners agree on, it's that their phone batteries don't last as long as they'd like them to. Of course, you could shut off useful features like notifications and location services to save battery power, or carry your charging cables around to give your phone a recharge break while you're at the office — but often these are things you don't think about until your battery is low and you're already out the door.
This is where Everpurse comes in. This svelte purse has a built-in battery and charger, so all you need to do is slide your phone — the iPhone 4, 4S, 5, 5S or 5C or the Samsung Galaxy S3 or S4 — into Everpurse when you're not using it to keep it charged up and ready to go.
Price: From $189 at Everpurse or from $219 at Amazon
V-Moda Crossfade M-100
The Crossfades are among the most desired headphones of the year, and not just because they look good on anyone's head. They're also some of the best-sounding cans available, delivering balanced and well-rounded audio across the gamut of musical genres — no hip-Hop, bass-heavy bias here.
The versatility doesn't end there. Plug the Crossfades into your Android smartphone or iPhone to take calls. Control music right from the Kevlar-reinforced cord, or listen to music in tandem with the SharePlay cable. Add a boom mic for calls, video chats or gaming on your computer.
To make the Crossfades even more personal, add a custom-engraved magnetic shield.
Price: From $299.99 at Amazon
Nikon D5300
This is the perfect camera if you're ready to step up your photography game with a DSLR but you don't know your aperture settings from your elbow. The D5300's auto mode will net any reasonably skilled person some good pictures, and the camera's other modes are easy to understand, easy to find and helpful in less than ideal shooting conditions. Aperture priority, shutter, program and manual settings are also on board, making this a great camera for intermediate-skilled photographers as well.
The D5300's body is compact and relatively lightweight yet still includes Wi-Fi connectivity and GPS for geotagging. The LCD in the back swivels 180 degrees for framing shots at almost any angle, or turn it off if you prefer the optical viewfinder. The 18-140mm kit lens offers long zoom capability and image stabilization for capturing crisp shots even at a distance.
Couple that with a 24-megapixel sensor and speedy autofocus, and you have a powerful all-around camera suited to photographers of almost any skill level.
Price: From $796.95 at Amazon
JBL Cinema SB400
The 2.5-inch JBL Cinema SB400 is slimmer than most of its competitors, making it work well in any room. But it still has plenty of power to play action movies at loud volume without sounding strained or distorted, as many less expensive soundbars do. Voices sound much clearer than they do from most soundbars we've heard, and the SB400's Harman Display Surround Technology produces a big, enveloping surround sound effect without ever sounding gimmicky or unnatural.
But the most notable selling point of the SB400, which won our award for best soundbar, is its included subwoofer. It has an 8-inch woofer cone, as compared to the 6.5-inch cone of most soundbar subwoofers, and a 200-watt amp that delivers double the power of a typical soundbar sub. That makes it a great choice for any movie lover.
Price: $549.95 at JBL or Amazon
Lenovo Yoga 2 Pro
Yoga is good for the body and soul — at least if you're a hybrid laptop/tablet like the Yoga 2 Pro. The latest generation of Lenovo's groundbreaking multi-mode machine is slimmer, sleeker and more powerful than last year's model. It still has the hinge that allows it to go from laptop to tablet to tent to game mode with an easy flip.
The Yoga 2 sports an ultra-high-resolution touch display that looks amazing when you're watching videos and playing games.
Thanks to fourth-generation Intel processors, this Yoga will be able to hold the downward dog and sun salutation for a long time on a single charge. Intel's chips also mean it's powerful enough to handle robust tasks and casual games. The Yoga 2 Pro is good for work or play on the desk or the couch.
Price: From $929 at Lenovo
Sonos PLAY:1
Either as a stand-alone speaker or an addition to an existing Sonos wireless speaker system, the PLAY:1 packs remarkable sound in a small package. This best-in-class speaker features two class D amplifiers and a 3.5-inch mid-woofer for a great range hi-fi sound.
Via either Ethernet port, you can either stream songs from a personal library such as iTunes or enjoy streaming services such as Spotify, Pandora and others. All is controlled by a free app on your iOS or Android device. If that's not handy enough, this sucker's humidity-resistant — so yep, you can set it up in the bathroom.
Price: $199 at Amazon
[red gift box via Shutterstock]
Discussion