Multifunction Printer Buying Guide
Techlicious editors independently review products. To help support our mission, we may earn affiliate commissions from links contained on this page.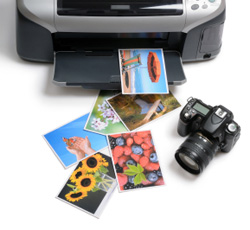 If you're in the market for a new printer, you should strongly consider a multifunction printer (MFP), or all-in-one. For about the same price as a standard printer, MFPs also give you the ability to scan photos and documents, copy, and sometimes even fax.
Generally, MFPs come in three different genres – photo-oriented, office-duty, and general purpose. There are affordable MFPs in each category, ranging from $79 to $299. Here are some things to consider when choosing an MFP.
Is Photo Printing Important?
If you want to print best-quality photos at home, you'll need an MFP that specializes in photo printing. These MFPs generally feature 5 or 6 ink colors, as opposed to the standard 4, to render more realistic images. Most of them also come with card slots for inserting your camera media directly; no need to turn on your PC for printing. Small LCD displays on some printers allow you to preview and select the photos you wish to print. In practice, you may still find yourself going through the PC, but even then the included photo software will make the whole process easier.
Each printer maker has a photo "family" of printers – choose from among models in that line. For example, Canon's photo models are designated with a "p" in the name, HP's are called "Photosmart", and Epson's are called "Artisan". Remember that if you want your prints to last longest, buy inks and paper that match your printer brand, even though they cost a little more. They are tuned to work with your printer for maximum quality and print longevity.
Scanning
Most people don't think they will ever use the scanner function of a MFP. But, once you have one, you may find yourself taking advantage of it for numerous creative projects. Use it to scan the kids' artwork at the end of the year and compile it into an online photo book for grandparents. Include report cards, clippings, and ticket stubs. Scan in old photos for home-made birthday and anniversary cards.
A scanner will also allow you to replace the need for a fax machine. Rather than sending a fax, ask for the person's email address, and scan and send the attachment. Invaluable for the gazillions of documents we find ourselves sending to insurance companies, schools, accountants, etc.
Do You Need Fax?
Faxing has almost become obsolete these days. But if you need it regularly (or just love listening to that cool beeping noise fax machines make when connecting), read the box specifications carefully to ensure that the unit has a dedicated fax modem inside and a number pad for dialing. Some MFPs tout fax as a feature, but actually achieve it by scanning documents into your PC for faxing via your PC's modem, which is cumbersome. True standalone fax capability is more often found on mid-range and up office-oriented devices, as well as a few fully-loaded photo MFPs.
Our Picks: Photo Multifunction Printers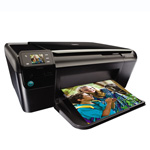 HP Photosmart C4680 (street: $70, retail: $100) This entry-level model with 4 inks, card slots supporting virtually every camera card type, 1.45-inch LCD screen, and 80-sheet input tray. It automatically senses the type of paper you've loaded (glossy, copier) and adjusts the printing accordingly.
Buy Now at Amazon.com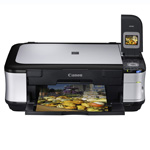 Canon Pixma MP560 (Street: $100, retail: $150) This popular mid-level model has 5 individual ink tanks, compatibility with most camera cards, duplex printing, built-in Wi-Fi and can print 4 x 6 inch prints in about 39 seconds.
Buy Now at Amazon.com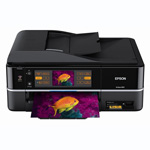 Epson Artisan 810 (street: $299, retail: $199) This photo-premium model has 6 individual ink cartridges, card slots for all camera card types, a touch panel with a 3.5" photo display, Wi-Fi support, duplex printing, internal fax modem, a 30-sheet automatic document feeder for copies, can print onto CDs/DVDs, and can print a borderless 4" x 6" print in 10 seconds.
Buy Now at Amazon.com
Discussion